We were flying out of Gatwick at 5.30am. Thanks easyJet! However we'd much rather fly at this time than arrive at our destination after dark, after all we'll gain almost another day of our holiday.
However as soon as we'd booked the flights we decided we'd also book a hotel at Gatwick the night before which would mean we wouldn't have to get up quite so early.
I'd read about Yotel via Twitter and was keen to give it a try.
We chose a Premium cabin for 2, at the cost of
£
85. It's probably a little more than you might pay for other airport hotels at Gatwick, but I was keen to give the 'pod /cabin' idea a go.
Pricing is done by the hour, with a 4 hour minimum stay. Yotel is also located within the airport terminal.
The pod or cabin sounds rather luxurious actually it's described as 'a clever space designed for 2 people with signature retractable bed that becomes a sofa'. Other highlights include En-suite bathroom with Monsoon rain shower.. a Monsoon rain shower, in a little cabin. Wow. I can assure you it was a very decent shower.

The location of the Yotel is within the public landside area of the South Terminal, between Costa Coffee and MoneyCorp. Typically our flight with easyJet is from the North Terminal
but nevermind
.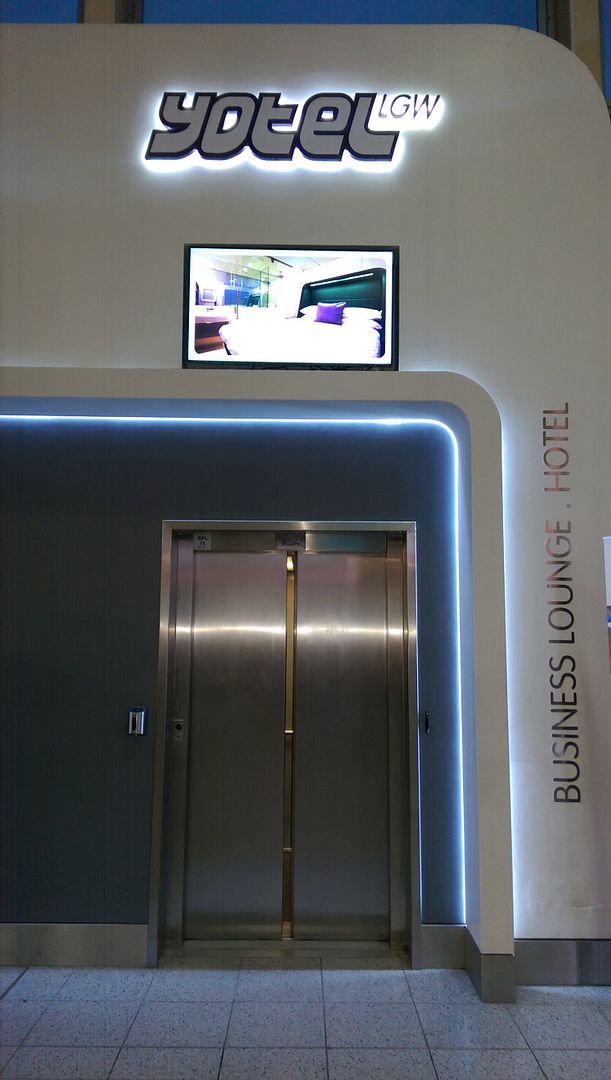 The lift to Yotel.
You can also take advantage of FREE coffee, tea or hot chocolate 24 hours a day. Well that's me sorted with a cup of hot chocolate tucked up for an early night.
And what better way to get into the holiday mood than leave the night before. I packed my jammies and toothbrush in my handbag.. and we were all set.
Mission control.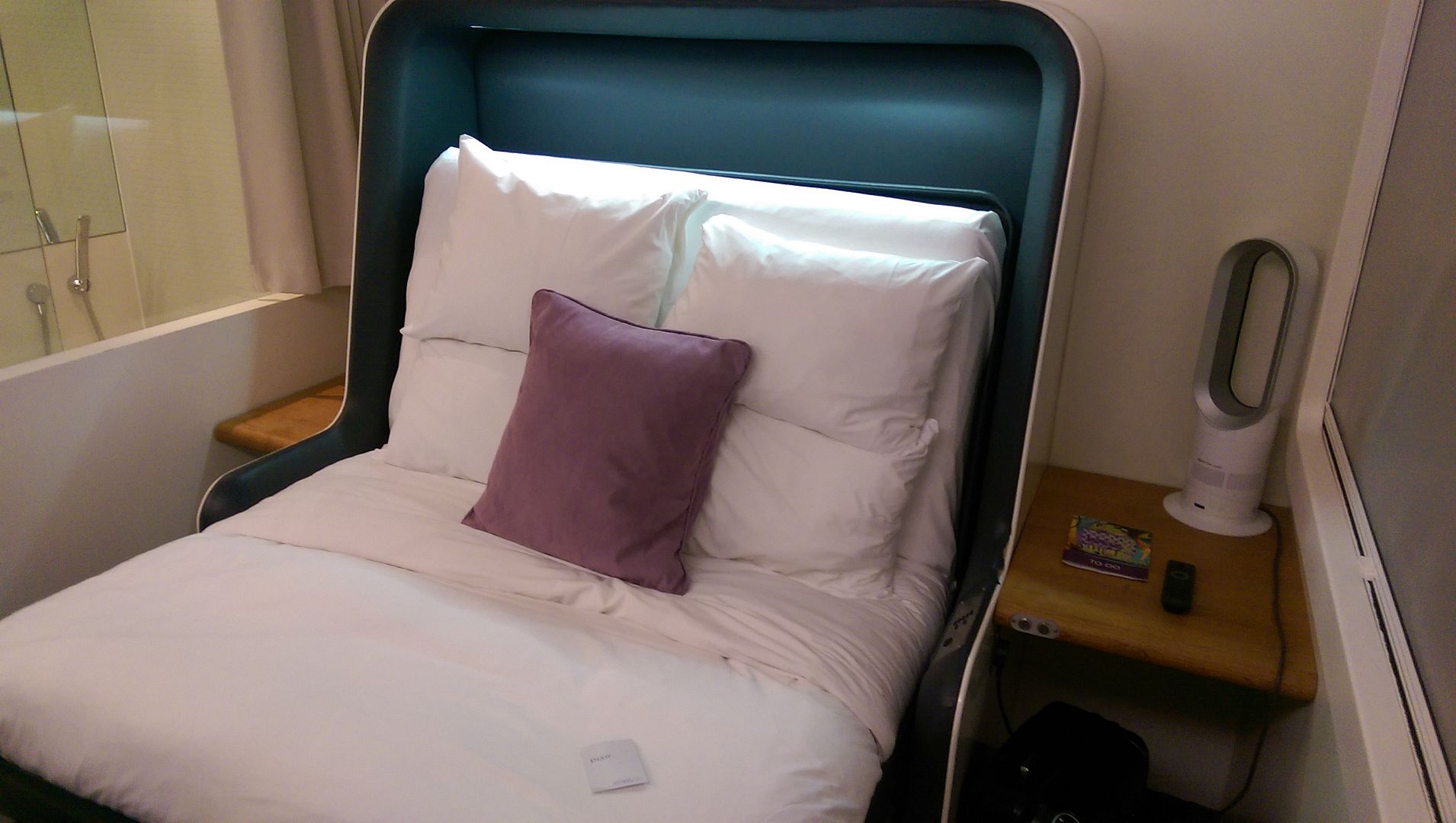 Inside our cabin.
The last time I flew from Gatwick I was on the last flight of the night, this time we were on the first flight out of Gatwick.
Compact bathroom.
So...
what was it really like staying in a little cabin?
We arrived at mission control ready to check in at 8pm. It was the perfect spot for a few hours sleep. We were quickly checked in and given our cabin number and key. With an overview of the facilities (free coffee etc). We headed to our cabin to have a look around and dump our bags before heading to M&S to get a little picnic tea. - we must have been the only people with no bags at that point.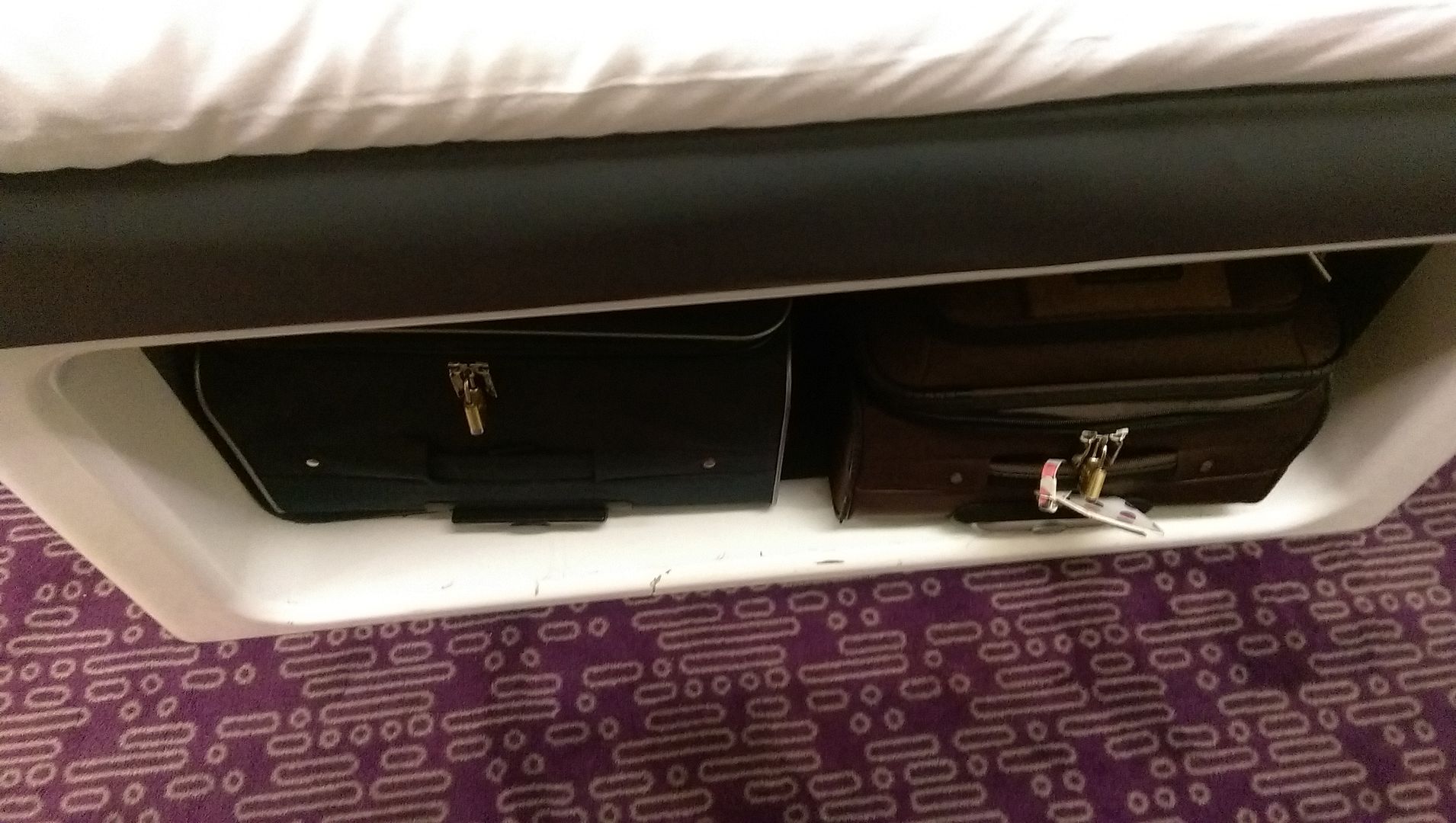 Luggage stowed beneath the bed.
Once back in our cabin we folded out the bed, and watched the highlights of the Olympics before opting for an early night. Setting our alarms for just 5 hours time.
Overall I was very impressed with the Yotel experience - our cabin was clean, the staff were friendly and check out was also super speedy. We are both tall and we found the cabin comfy enough, in fact it's very comfortable it was just tricky trying to fall asleep at 9.30. The surrounding area was quiet - we didn't hear any other guests coming or going in the middle of the night. The great bonus is being in the terminal building ready to leave when you need to. Of course if you're not a fan of small spaces this isn't the place for you, but it definitely did the job for us.
So if you need a little place to stay before you fly out of Gatwick check out the website here. Other Yotel locations include Heathrow, Amsterdam schiphol airport, Paris Charles de Gaulle
airport plus a central New York location.