Since being back from our holiday time seems to have just flown by, so although I wrote this one at the weekend, it's now Wednesday and the week has half gone! I really need time to just slow down a little.
Please.
Anyway, this is what I've been up to:
Running.
Last Thursday I did my first evening run since the clocks went back. I was really looking forward to this one. I feel the clock change is almost monumental in my running schedule. It means I can actually run outside of an evening. I can also run home from work if I want to. So I am looking forward to that as well.
Dreaming of next adventures.
I'm lucky enough to have my next trip booked already - at the end of the month I will travel to Iceland with the girls, which is very exciting.
Do you have any top Iceland tips for us?
But we seem to always be dreaming of the next adventure.. So it's time to start thinking about where the wind will take us in August.
Having a cuppa.
I was given a lovely box of Ceylon Tea from Sri Lanka, and a beautiful elephant tote bag. So I've been dreaming of Sri Lanka.. I have to say it's damn good tea!
Reading.
Whilst on holiday I enjoyed two books. After You by JoJo Moyes and The Year of Marvellous Ways. As via goodreads I've set myself a reading challenge for 2016. It's to read 10 books, which seems a ridiculously low amount. However I really don't read enough. My next book is Gone Girl. I've already read a few chapters, and can tell I'm going to be hooked. I don't usually read thrillers, so I'm very intrigued to see if I can cope with scary content.
Drinking Coffee.
There's always a new coffee spot to try and this time we visited Flosam & Jetsam. But there will be more on that later in the week...
Reminiscing about our holiday.
I've found myself looking back through our holiday snaps, (for blog purposes, and generally dreaming purposes too). One of my favourite photos from the trip is this beautiful sunset which I caught whilst running along The Corniche, Abu Dhabi, one evening.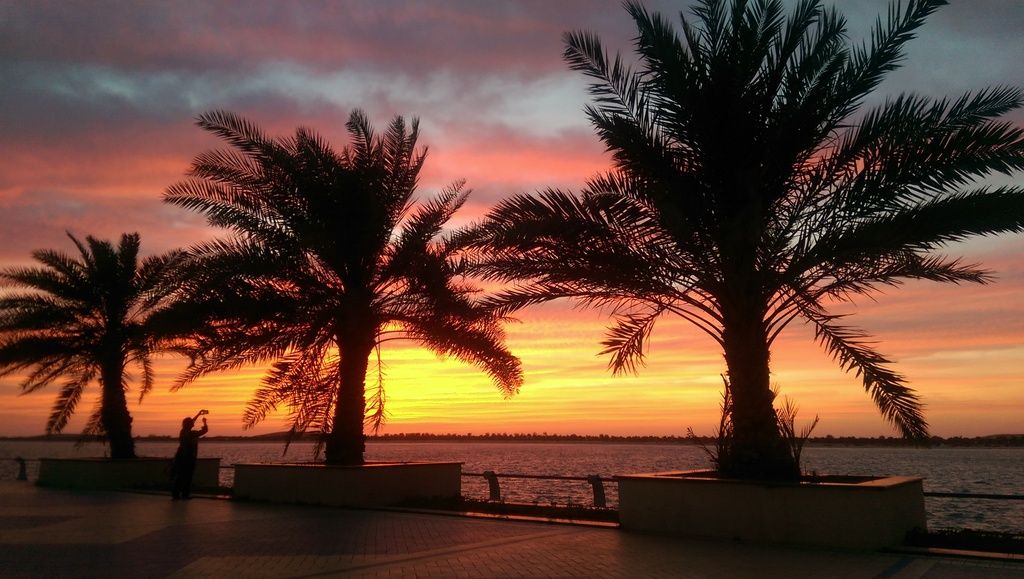 Have you noticed there seems to be a reoccurring theme? Tea & coffee. Now where's the cake?
How was your week and what have you been up to?