Today was a day I'd looked forward to for a couple of weeks, finally I'd be visiting
Blåbär
in Putney a visit I'd been waiting patiently for. My friend (S) and I spoke about visiting the new cafe a couple of weeks ago. It's only been open for about a month. I work in Putney so could have easily popped in at any time, but I wanted to save it so that we visited together.
I heard about Blåbär by the wonders of Twitter. It's tucked just around the corner from the High Street, Lacy Road in fact.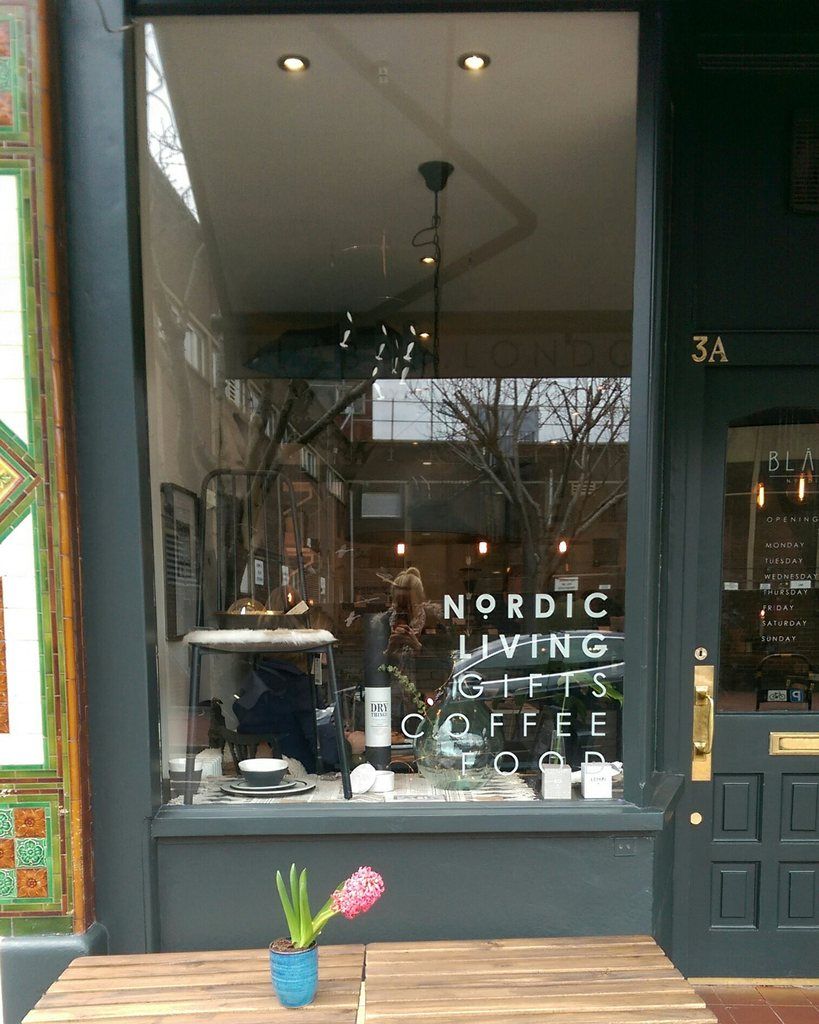 Blåbär is rather beautiful - it sells a lot of the items in the cafe even the chairs we were sitting on had nice brown labels on. As well as Nordic design homeware, we spotted SKANDINAVISK candles and diffusers that we came across in Copenhagen. The H

ygge candle stood out to us both.
There's something about Nordic countries for us at the moment. We've both just read

The Year of Living Danishly: Uncovering the Secrets of the World's Happiest Country by Helen Russell which just sums things up nicely. From the book we learn a little more about how to H

ygge. I also need to note that buying pretty things for the home will help to create a happy Danish-esque feeling. However that doesn't mean spending all ones money on nordic homeware.

As I write this I'm cosied up under a blanket, a candle lit and a steaming cup of tea sit beside me. This is Hygge to my understanding. I was also recently made aware of this
article
by The Lux Pad.
Anyway I digress.. back to the Cafe!
Blåbär
is set over two floors with the counter at the back, and shop area downstairs there are a few places to sit downstairs including a window seat, and some outdoor seating. During our visit the seats downstairs were taken so we went upstairs.
We ordered our lunch straight away. We both went for avocado and seeds on rye bread, with a cinnamon bun, a flat white for me and a hot chocolate for S. Per person this was
£9.75 which I thought was good for the quality of the food. To be quite honest I found the coffee rather strong but that's just personal taste. S said her hot chocolate was lovely. I probably should have gone for a
cappuccino. But there's always next time...
A little sign by the Cinnamon buns says 'Best in Putney probably'. Probably! No, I can assure you. Definitely
. These are not like any other cinnamon bun you may eat in Putney. And I'm quite partial to a pastry. These cinnamon buns are fresh, doughy (and I mean that in a good way) and cinnamon-y. They have a lovely fresh flavour to them, and almost melt in the mouth. Ps. Note the lovely plates that everything comes served on.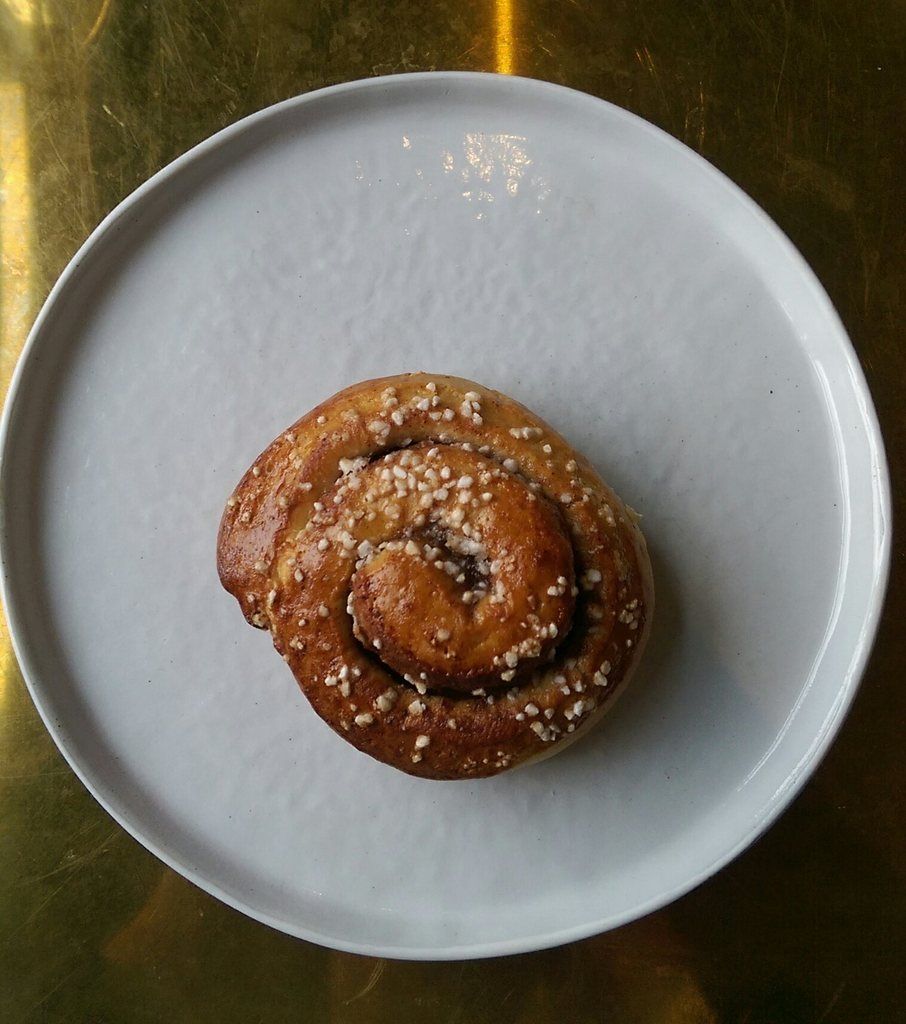 Upstairs could easily be your living room,
a girl can dream!
There are lots of stylish things to buy. But it's a very relaxed atmosphere. We stayed in our window seat (on our expensive chairs) for rather a while and at no point did we feel hurried. The staff are polite, attentive, and bring your order to you. You can help yourself to cucumber infused water. The atmosphere is laid back with music playing (think Walter Mitty soundtrack), Nordic or Icelandic tunes and you won't be far off. Perfect.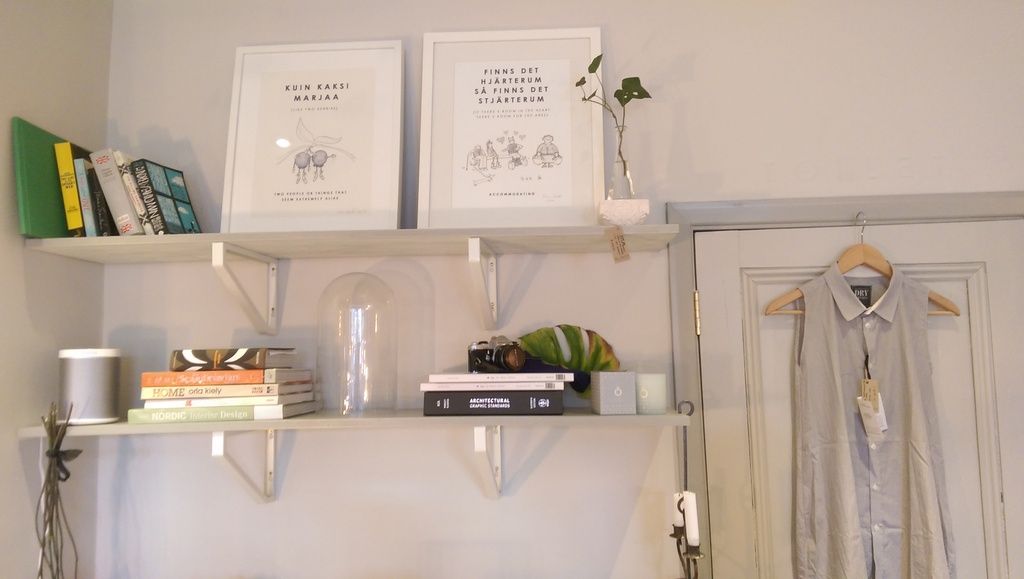 I love that you don't need a mirror because...
I'm really growing to like the Nordic way of thinking. It's no wonder Denmark is the worlds happiest country.
Check out Blåbär on Twitter and Instagram. Otherwise, well, you'll just have to go and see for yourself...