Last weekend I went to Sketch for Afternoon Tea, it's been one that was on my list for a while, and everyones heard about the snazzy toilets, right? So lets take a little look at the Afternoon Tea.

We arrived into a dark hallway decorated with some interesting art installations. We dropped our coats off at the cloakroom (what a good idea) and from there we went through to The Gallery. A very interesting Pink room adorned with even more interesting artwork.
We were taken to our table and handed our menus, I was given a vegetarian/vegan menu (take note)! Having allowed ample time to peruse the menu before our waiter came back to introduce himself as our waiter for the afternoon (take note). He proceeded to take our order, firstly asking if we would like drinks. We asked for some tap water, to which he rolled his eyes! Considering we were paying at least

£45 per person and there were 4 of us, I think this is rather rude and unprofessional. We ordered our teas, Lemon and Ginger and Darjeeling 2nd Flush featured as well as Earl Grey.
We ordered 1 vegetarian Afternoon Tea with sparkling grape juice, and 3 Champagne Afternoon Teas (take note)! Scrap that we were paying

£57 for 3 of our teas. Pardon us for asking for tap water with our Afternoon Tea. Hmm...
Moving on, our champagne and sparkling grape juice soon arrived, and was poured beautifully by a man whose job it was to serve the champagne, perhaps his job title is Chief Champagne Pourer. The only time I have quite seen it done like this is at The Burj al Arab Afternoon Tea, I think. Beautifully done, Mr Chief Champagne Pourer. Our teas also soon arrived, in quirky teapots and cups to match. Teapots of Ghosts, milk jugs with Dreams and cups staying Forget About It.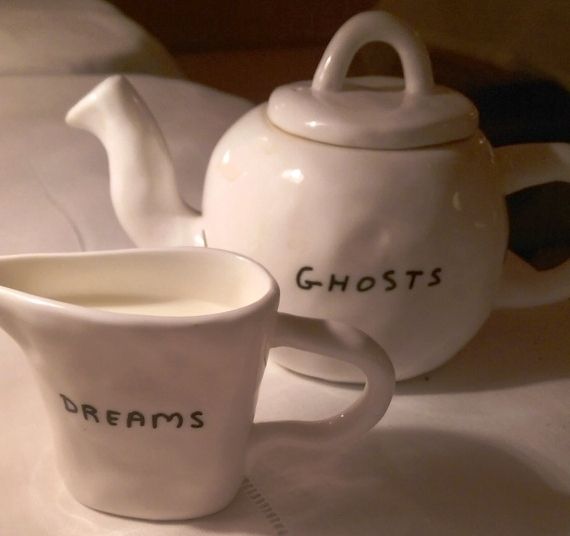 Soon our Afternoon Tea stands arrived. There was some confusion with the teas, I'd not been brought my separate Vegetarian Tea, despite booking this when we made the original booking, being handed the Vegetarian menu, and clearly ordering it. After much confusion and questioning a poor waitress corrected the mistake and brought me my Afternoon Tea. (Hooray). In the mean time we didn't see the original waiter who had introduced himself as our waiter for the afternoon. Perhaps our request of tap water was too much for him to handle... :-/
Onto the food: There was a lovely selection of sandwiches and sweets.
The sandwiches I enjoyed most were the posh cheese toastie and to my surprise the blueberry and spinach sandwich, which was rather interesting. The pastries were good, my favourite being the passionfruit tart and the sketch chocolate bar, and the little chocolate tart.
The scones followed after... I think we may have eaten the pastries first, before we placed our orders 2 plain scones and 2 fruit scones. We had THE scone discussion or debate as two of the girls said they'd been swayed by the Cornish way of preparing your scone. Thats right jam first and then clotted cream. Wow. Well I decided to be bold and give it a try, as if I hadn't before. I'm a Devon girl (Well Somerset really, but Devon is closer)! I find putting the jam on first ends up in a mess on top of your scone and in the pots of both jam and cream. I also find that putting on the clotted cream first acts a little bit like butter, and you would never put jam and then butter on your toast. Would you?

Anyway moving swiftly on...(to more cake) We were then offered yet more cake either chocolate and raspberry cake or lemon meringue. Both of which were rather lovely.
I have to say I really enjoyed the food. I came away feeling very satisfied but not stupidly stuffed, which is what I usually feel like. Maybe I've learnt to pace myself.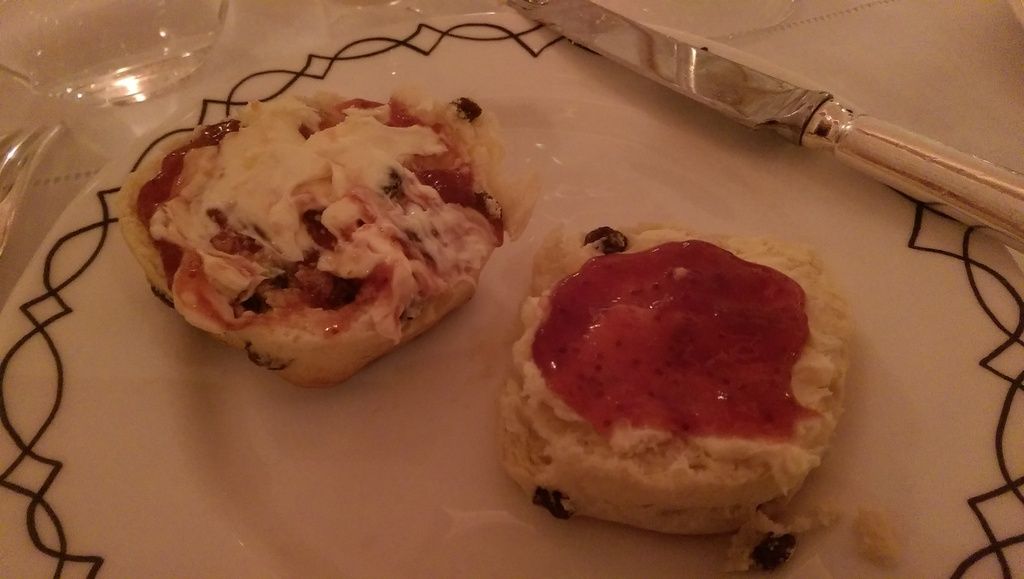 Overall I enjoyed our Afternoon at Sketch; the food was good, the service however was rather haphazard, as I have pointed out. We were also charged (on our initial bill) for 5 teas, I understand there was confusion with the order of our Teas however there were only 4 people at the table! The atmosphere of the Gallery was good, although the lighting isn't great for photography, so I'm afraid my photos aren't great.


And if you did wonder about the toilets... they are rather interesting.