Yesterday I attended #coffeewithcurrys and event hosted by Joe Blogs & Nespresso.
It was perfect timing really as I've not been to a blogging event for a while, and it was a good way to kick start my blogging again. I've been busy working on a work based project called
pocketnannies
. It's my new baby, but of course there's still room for coffee, tea and cake in my life.
Joe Blogs is a great little network I've seen posts about their events and been impressed with what I've seen. So I was very quick to accept my invite to #coffeewithcurrys and excited to attend.
Walking into a room of unknown people is always slightly nerve wracking but I sat myself down with some lovely bloggers and we got chatting. That's the thing with blogging there's always things to talk about, you share a lot in common with these people, just by having the same hobby.
We were given name badges including our Twitter handles. Very handy, as I always find it quite tricky remembering everyone's names. Especially when you have just meet 10 (or possibly even more) new people. So a little shout out to the lovely welcoming people I chatted with. I think when I'm nervous I actually talk more than I normally do, which is funny, but never mind.
Soon the event was kick started with some food brought to our tables.
The Fable
was the location for the event and what a great little place too. I'd definitely return to Holborn for a meal there.
We were then split into 4 groups as there were 4 activities for us to take part in:
Coffee cocktail making,
Coffee tasting,
Latte art and
About the Brand Nespresso and brand awareness.
I have a Nespresso machine at home so I know what I'm doing when it comes to making their coffees. But have I ever thought to make cocktails using coffee my Nespresso machine? No!
We were the first group to make our cocktails, lucky us - the first Kraken Coffee and then Vanilla Sky. We were talked through making the cocktails and then we made them ourselves. Two cocktails before 1.30pm not bad going. Good job we'd been plied with food previously. Nothing could quite prepare the body for the coffee intake for the afternoon however.
Next we were onto the coffee tasting - I found this bit really interesting. Jonathan from Nespresso talked us through coffee tasting and likened it to wine tasting. It was amazing to really taste the flavours within the coffee once we knew what we knew what we were doing. At home I often drink Rosabaya but I was startled at how bitter it tasted. I'm a fan of milk in my coffee, which I guess lessens the bitterness. We teamed the shots of coffee with some rather yummy chocolate which complimented the coffee perfectly. It really brought out each of the flavours. It was a very interesting aspect of the day.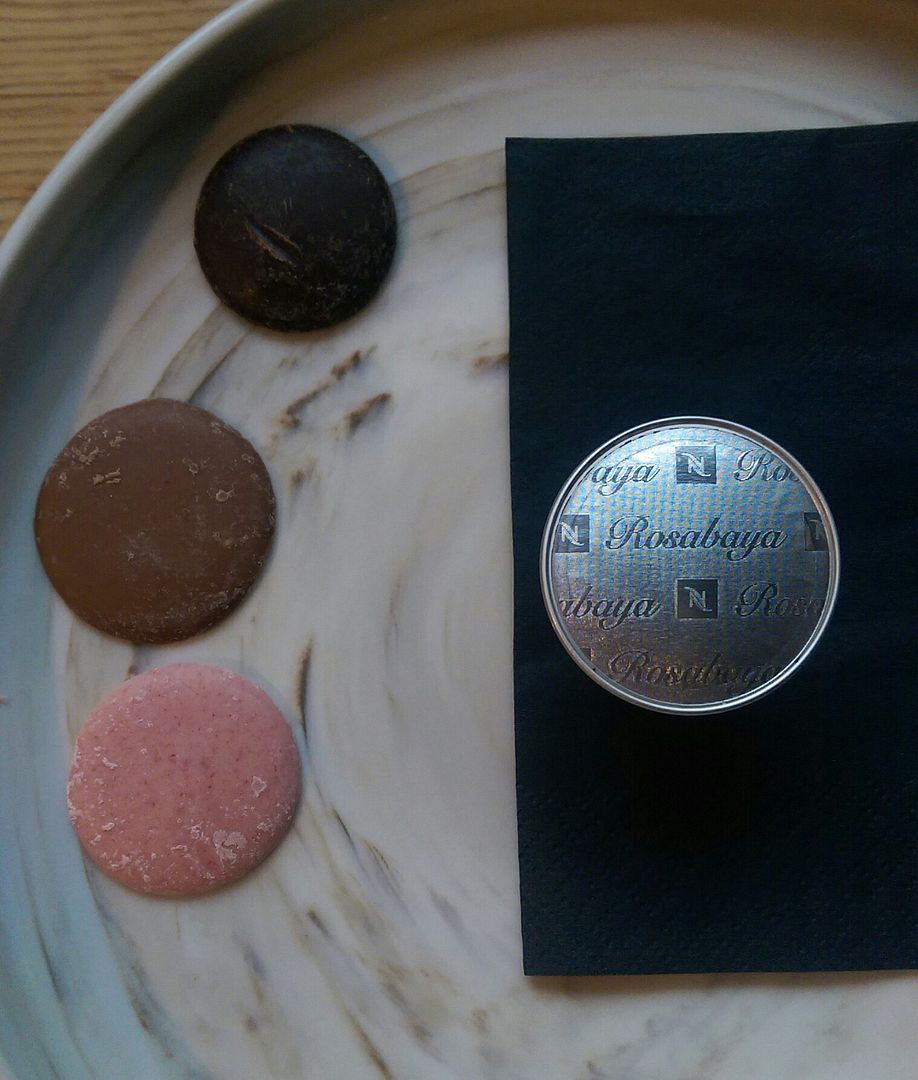 Next we moved onto the latte art station, where we were able to have a go at steaming the milk and then creating some art on our coffees. Let's just say I think it takes a lot of practice. I think I'll stick to the stencils and cocoa for now!
Next we learnt about Nespresso as a brand. It was interesting to hear how Nespresso came about, how the brand evolved at the positive effect that every coffee capsule has on the community that have produced it. Did you know: 8 thousand cups of Nespresso coffee are being drank at any given time. Nespresso was established to enable people to drink barista style coffee at home.
We all left with a lovely goodie bag, which contained a lovely cupcake a box of Nespresso Chocolates and a set of 'capsulesque' espresso cups. Now alls left to say is Thank You to everyone at Joe Blogs, Nespresso, Currys and The Fable for putting on a great event.
You can also read more
here
.