Hopefully I'm not the only one who picks up the recipe cards in the supermarket.. And generally never uses them. I decided I'd change that. The recipe card in question was the Easy lemon curd layer cake courtesy of Waitrose.
I'm quite partial a bit of lemon. So this one was just perfect. It looks quite impressive but it's pretty simple too.
I'd forgotten how much I enjoy baking. Quite often when I bake and there are one or two children trying to help. Although they are helpful of course sometimes baking alone is much more relaxing. Despite feeling a little lost without my chief egg cracker the whole experience was tidier and calmer than usual. :)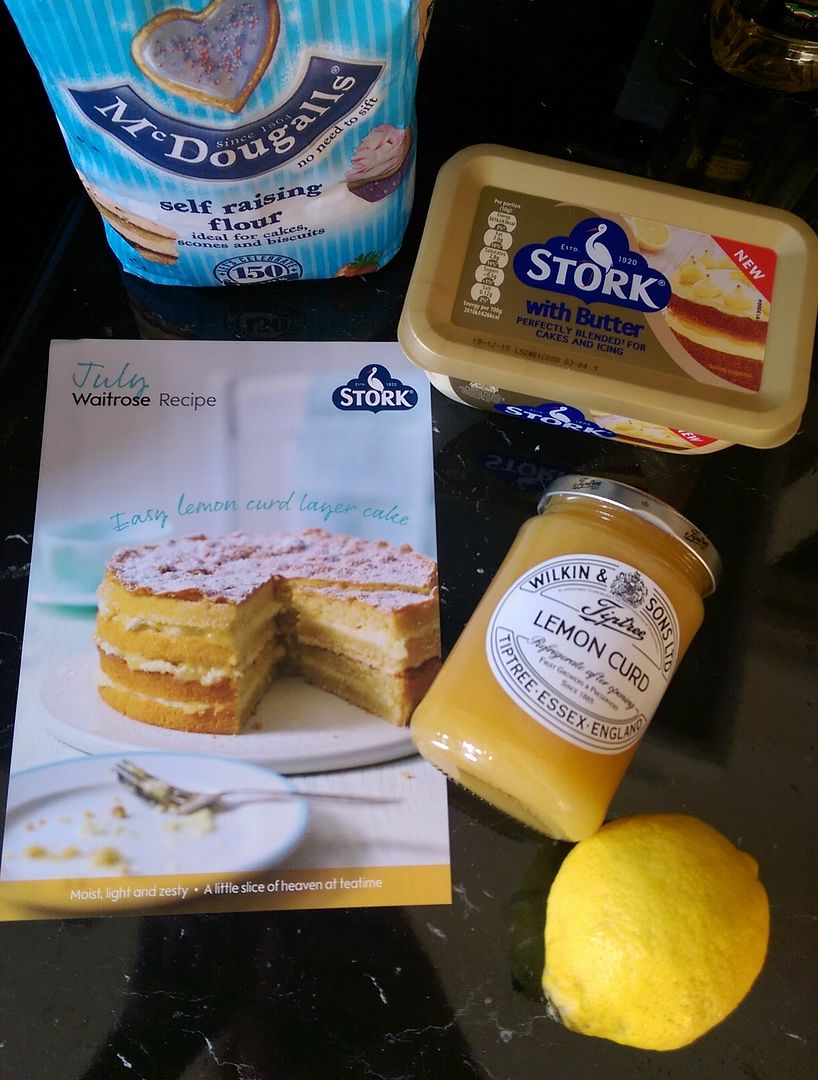 Here's what you need..
225g self-raising flour
2 tsp baking powder
225g Stork with Butter
225g golden caster sugar
4 large Waitrose British Blacktail Free Range Eggs
1 lemon, juice and grated zest

200g soft chese, such as essential Waitrose Creamy Soft Cheese
2 tbsp icing sugar, plus extra for dusting
1 tbsp milk
100g lemon curd
Here's what to do...
1. Grease and line the bases of 2 x 20cm cake tins. Preheat the oven to 180 c, gas mark 4.


2. Place the flour, baking powder, Stork, sugar, eggs and lemon juice and zest in a large bowl and whisk for 2-3 minutes until smooth and creamy.
3. Divide the mixture equally between the tins, and bake for 20-25 minutes until golden and just firm. Leave to cool in the tons for a few minutes, then turn out and allow to cool completely.

4. Meanwhile, in a bowl beat together the soft cheese, icing sugar and milk until soft enough to spread. Gently ripple this mixture through the lemon curd.


5. Using a bread knife, cut the cake in half horizontally to give 4 layers. Use the lemon curd mixture to sandwich the cakes together into a tall stack. Dust lightly with icing sugar to serve.

Well there we have it a pretty simple recipe with a great result. The all in one method is now often one I use, so putting everything into the bowl initially was slightly daunting. I'm a fan of creaming the sugar and butter together in the way in which my grandma taught me to bake. However for this simple recipe it works really well and it may have just convinced me I could change my baking ways. It tastes pretty good too.
Happy Baking!