During my week off I ventured back to the West Country where I spent time with my family. It's always nice to come back to a slower pace of life and unwind a little. Strangers with Coffee is a coffee shop in Wells, the place where I was born. (I'm hoping to share more with you on Wells itself very soon). It's been on my list 'to blog about' for a while but I just haven't had chance to do so. I have visited once before.
Strangers with Coffee, or Strangers as I may lovingly nickname it, is in St Cuthbert Street, Wells. It appears to have made quite a name for itself since opening in 2012.
TripAdvisor
rates it as
#1
of 78 Restaurants in Wells TripAdvisor and it has a Certificate of Excellence! What reminded me of visiting Strangers was the
Independent Coffee Guide
and whilst I was in the area I knew I had to squeeze in a visit. Since I have spotted Strangers in
Crumbs
magazine - Chef Nigel Gifford OBE rates Strangers with Coffee as his 'best brew' spot. I think that's rather an accolade in itself.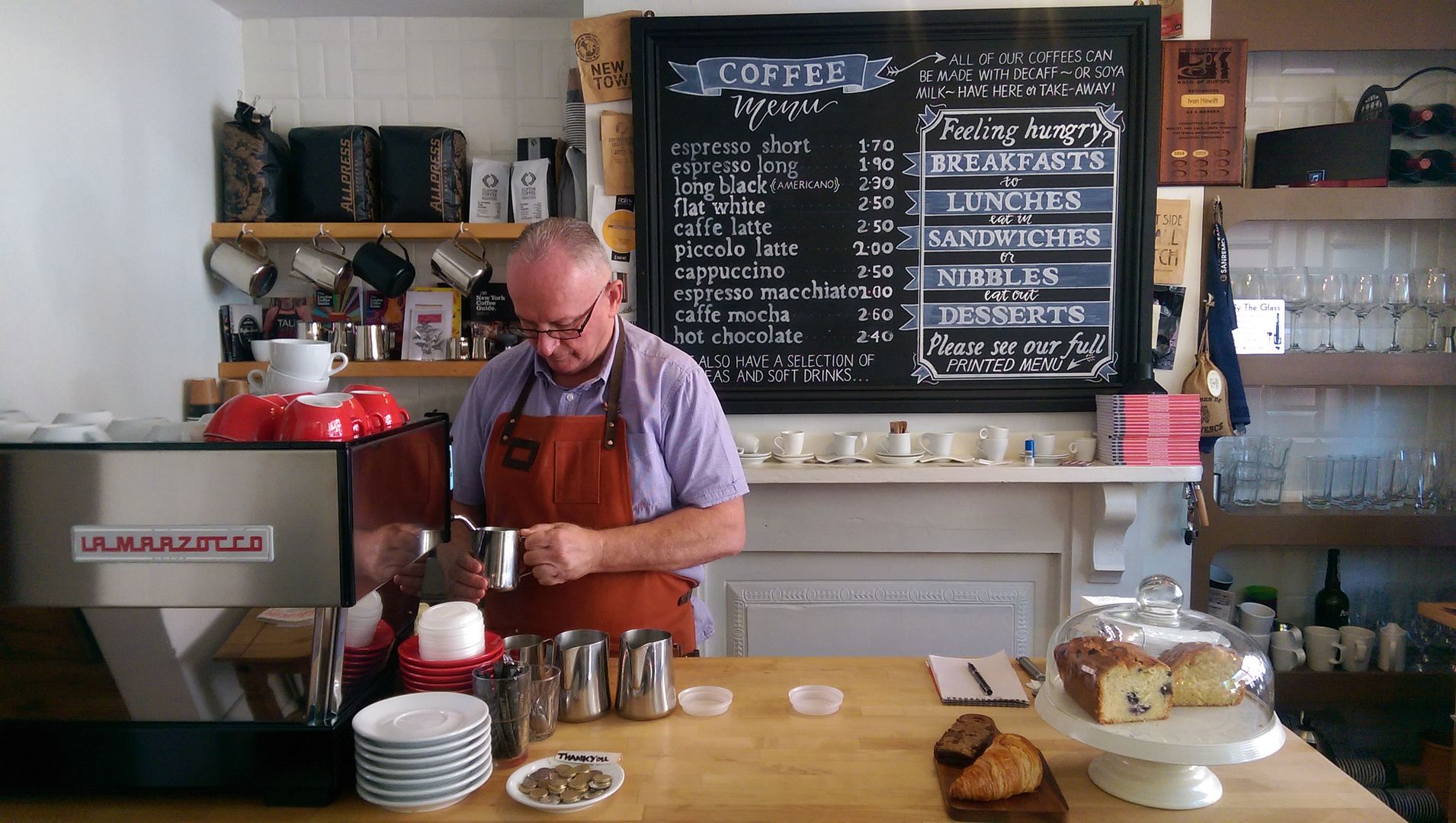 Anyway enough about all the lovely reviews, let's concentrate on my visit. I visited quite early on a Friday morning, and although the cafe wasn't heaving there were a good amount of customers. I ordered a flat white and a piece of blueberry and sour cream cake. It was so light - a perfect cake really, not heavy at all. The flat white was lovely and I was so pleased to sample Ivan's coffee as I've heard many good things about it. If you take time to read some of the TripAdvisor reviews you'll find people saying this is the best coffee in Wells if not further away.
I can only agree, there are a few coffee chains in Wells these days and I'm not a fan. Coffee has come a long way since the likes of Costa & Starbucks hit the High Street. It's not on the main high street but just a few minutes walk away. Perhaps it is a good thing really as I guess only those 'in the know' realise it's here!
Strangers with Coffee is a lovely space, there's a little sunny courtyard which is an added bonus. Ivan and Susan, the owners have a very strong ethos which is reflected in the way in which they run their cafe.
I think living in London has made me appreciate the good coffee that comes from local independent coffee shops, I'm so glad that Wells has a slice of the action too. Strangers serves Allpress coffee as well as some locally roasted beans.
The total for my coffee and cake was
£5.00.
I think £2.50 for a coffee that good is a steal. Please don't be a fool like me and not have cash, as they don't accept card. I quickly hot-footed it to the local supermarket cash-point.
Have you visited Strangers with Coffee?