It's been a while since I did a tea post. What have I been playing at? Last weekend I met a friend at Oxford Circus and we wandered around looking for a decent coffee shop with Wifi. It's surprising how many don't have it. I think I just assumed everywhere did these days. We returned to Yumchaa as we knew they provided decent Wifi - we'd planned our trip to
Copenhagen
here just a number of weeks ago.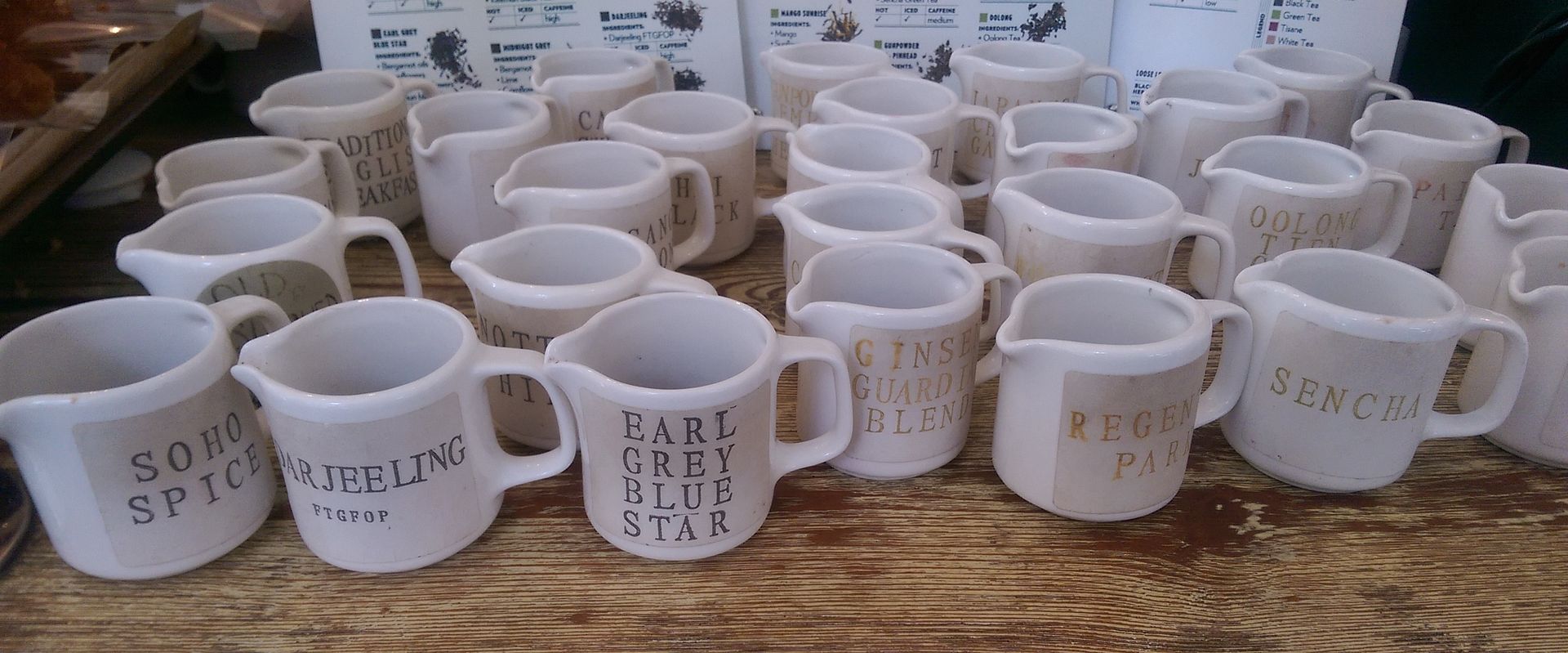 So what is Yumchaa all about? Yumchaa: creating tea (chaa) that tastes yum. Yumchaa is on the corner of Berwick Street and Noel Street in the heart of Soho. Well worth a visit if you're in the area, be sure to check out their pretty
website
.
You could easily wave goodbye to an afternoon here. Whether your working on a project, catching up with friends or reading a book. There's an impressive selection of teas to choose from, and you know what you can have a lot of them as an iced tea. Perfect for this warmer weather.
There's a huge selection of teas, including black green and white. All teas are served loose and with a strainer. My first choice was a pot of Wanderlust - which their website says tastes of Autumn afternoons. I have to say I did purely choose it because of the name, and it sounded nice. Wanderlust is a green tea with apple, almond and cinnamon (yes I see the Autumnal feel now..) Anyway it was a good choice, it was easy to drink and had a good flavour. However on pouring my second cup it was rather strong - I realise I'd left it too brew too long. But you can't rush a cuppa, can you? Meanwhile my friend went for the Japanese Cherry Garden, which she said was lovely.
It was inevitable that we'd need another cuppa, and in my case cake, and tea number two was taken a little later. This time over ice. I went for the Regents Park, which they say tastes like a tropical holiday. Do you get where this one is going..? Wanderlust, tropical holidays... *Dreaming of holidays*
It seems I was taken by the green teas today, this is another with a Chinese green tea base with papaya pieces, pineapple, strawberries, raspberries and rose petals. Wow. I'm not entirely sure I could taste all those flavours in the tea but it was very refreshing. A large selection of Yumchaa's teas can be made iced, but not all. This is illustrated on the information sheets pictured above.
Iced teas a-brewing - it was quite interesting to see how the iced teas were made. They are brewed with hot water first, of course. It wouldn't really work otherwise would it? Then poured over ice, providing a large glass of iced tea.
I chose a slice of banana and Nutella loaf to accompany my iced tea. The concept of chocolate and banana just works. I couldn't resist the Nutella. I have to be honest the cake itself was a little dry, (I think this was due to being pre-cut), but it tasted good.
There are a few Yumchaa tea houses in London. This isn't my first visit to Yumchaa either, I've also been to their tea house in Tottenham Street, which is conveniently just around the corner from Goodge Street station. The light and airy space makes a good place to meet friends. The Berwick Street tea house is smaller in size, but also has seating downstairs. The mismatched tables & chairs are a feature in both of the stores I've visited. There are 3 other
locations
and market stalls too. Oh and did I mention they had wifi?
Have you been to a Yumchaa?
Until next time tea friends. X